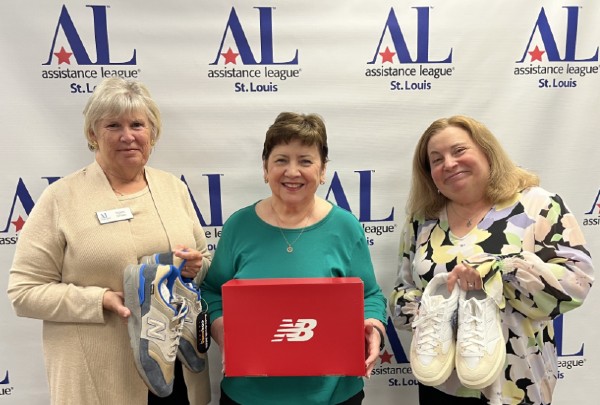 Pictured left to right: Terri Spink, STEPS chair; Denise McKibben, ALSTL president; Janie Burse, a Ferguson-Florissant Students in Transition Social Worker
With school back in session, the Assistance League of St. Louis STEPS to Success program is off to a strong start. By mid-November Assistance League volunteers will have measured and delivered brand new athletic shoes and socks to nearly 4,000 students in 43 schools throughout the Metro St. Louis region, including schools in St. Louis City, Jennings, Hazelwood, Pattonville, Ritenour and Ferguson-Florissant.
In addition, because of a generous New Balance donation of 850 pairs of new athletic shoes, the nonprofit organization has increased its impact within other partner organizations in the community. Assistance League member Kris Lewis and Assistance League president Denise McKibben worked with New Balance consultant Paris Thompson to facilitate the donation.
The New Balance donation also enabled Assistance League to significantly expand its partnership with the Ferguson-Florissant School District, which serves more than 9,000 students. The district received 625 pairs of the New Balance shoes.
Janie Burse, a Ferguson-Florissant Students in Transition Social Worker, described how the shoes will be used. "While we will be sharing the shoes with any student in need, many of the recipients will be children whose families are in transitional situations." She told of a recent experience with a kindergarten boy who received a new pair of shoes. "He came into my office wearing shoes wrapped in duct tape and walked out wearing brand new shoes and a great big smile. In fact, he was so intent on looking at his shoes that he walked right into the wall! And he kept asking his mom, 'Are you sure these are mine?'"
Burse also described two teenage brothers living with their family in a hotel, who were thrilled to receive new shoes in their very large, hard-to-find sizes—size 13 and 15. She explained, "Often when organizations donate shoes, they are for younger students. This partnership with Assistance League of St. Louis is helping us meet the needs of some of our older students. The boys' mother called me the next day to say that these two young men went to school that morning displaying a new level of confidence."
Denise McKibben talked about the impact of the STEPS program in Ferguson-Florissant and throughout the region: "The goal of the STEPS program is to boost students' confidence and academic engagement by providing new athletic shoes and socks. Last year we delivered new shoes and socks to 3,454 students in 41 schools, and we're on target to make a difference for even more students this year."