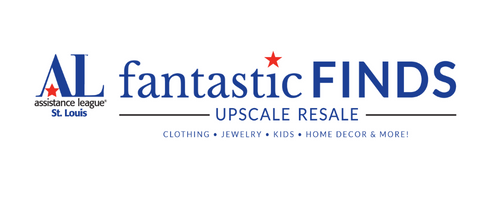 We are open
Tuesday through Saturday
10:00 a.m. - 4:00 p.m.
Donations accepted at the
back door
Tuesday through Saturday
11:00 a.m. - 3:00 p.m.
At Fantastic Finds you will find great bargains on high-quality clothing, accessories, jewelry, furniture, housewares and seasonal items.
All items sold are donated to Fantastic Finds. Money raised goes to benefit the St. Louis community through Assistance League's many Philanthropic Programs.
Fantastic Finds is completely staffed and managed by friendly Assistance League volunteers.
What Our Customers Are Saying
"Crazy, cute stuff!" That's how this customer describes the clothes she finds at Fantastic Finds. 
"I shop at Fantastic Finds because of your quality and very fair prices.  I love your shop!"
"I want everyone to know about your shop, I would even stand out on Olive St. with a sign for you."
"Lovely store, everyone is so nice and helpful."
"I live in Illinois and I come to my Dr. appointments in St. Louis early so I have time to come by your shop."
"You all really DO have "fantastic finds!"
Store Hours
Tuesday 10:00 a.m. – 4:00 p.m.
Wednesday 10:00 a.m. – 4:00 p.m.
Thursday 10:00 a.m. – 4:00 p.m.
Friday 10:00 a.m. – 4:00 p.m.
Saturday 10:00 a.m. – 4:00 p.m.
Location
Bellerive Plaza
12778 Olive Blvd.
(Southwest corner of Olive & Mason)
St. Louis  MO 63141
314-579-9500