My Own Fun Stuff
Hospital Activity Kits
A hospital can be a scary place for a young child. And a boring place. My Own Fun Stuff provides activity kits for quiet entertainment to comfort children and adults in various settings to alleviate trauma, stress or difficult situations.
Last year 55 Assistance League members volunteered over 1,100 hours to pack and deliver over 20,000 My Own Fun Stuff packets to area healthcare facilities, public schools and other agencies:
Barnes-Jewish Hospital, SSM Cardinal Glennon Children's Medical Center, St. Louis Children's Hospital, Children's Hospital at Missouri Baptist Medical Center, Mercy Medical Center, Mercy Hospital St. Louis, Mercy Hospital Jefferson, SSM St. Clare Health Center, SSM St. Joseph Hospital, SSM St. Joseph Hospital West, St. Luke's Hospital, SSM St. Mary's Hospital, Christian Northwest Hospital, St. Vincent Home for Children, St. Louis Public Schools Transition Program, Family Care Healthcare, St. Louis Children's Hospital After Hours, SSM DePaul, four women's shelters and sixteen public schools.
For more information about My Own Fun Stuff, please contact us. You can also make a donation to Assistance League specifying My Own Fun Stuff anywhere on this site.
Applause for Activity Kits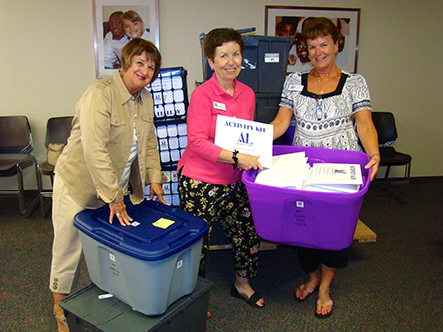 Assistance League recently received these heartfelt thank you notes illustrating how the kits help those of all ages cope in times of stress.
"Time and time again, I witness the excitement on a child's face when receiving the packet. The younger patients enjoy the coloring books and small figurine in each packet. The older patients often enjoy the assortment of challenging puzzles and deck of cards. I observe families playing games together, which always warms the heart. We truly appreciate your support to our hospital!"
-Leah Harper, BS, CCLS Certified Child Life Specialist, Emergency Department, SSM Cardinal Glennon Children's Hospital
"Often they are given to elderly, confused patients to help distract and keep them occupied; they are very helpful with keeping these patients calm, focused and relaxed. The kids also love them and the parents and families who are already under extreme stress really appreciate it. It is extremely helpful to the staff to have these resources readily available to them."
- Jennifer Garnica, RN, BSN, MHA, Director of Medical Acute Care & Interim Director of Emergency Services, SSM St. Mary's Health Center
The kits help children and families who are in some of the "scariest" moments of their lives.
-from hospital staff