Assistance League Joins SLU in Service Hours Challenge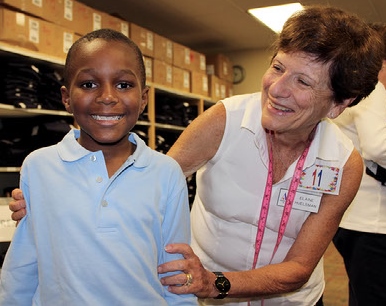 Assistance League of St. Louis was recently invited to participate in a unique challenge Saint Louis University launched to celebrate the university's 200th Anniversary. The university is aiming to deliver 200 years of service hours – 1.7 million volunteer hours – performed by community organizations in a single year. Assistance League happily joined the 200-Years-in-One service challenge to help SLU reach more than 1.7 million hours – all in one prolific year—by adding 44,923 hours to SLU's clock. This represents volunteer hours from November 2017, through the end of the fiscal year in May, 2018. Assistance League is featured in a professional video highlighting our compassionate efforts. Click HERE to view the video, which was filmed by SLU's professional team, assisted by member Jayne Foley, a SLU graduate and Chairman of Assistance League's Public Relations.
In a world that seems less than gracious, often unkind, and not always generous to others, Assistance League of St. Louis is a shining light in the darkness. We have clearly defined objectives, united purpose, talented leaders, enthusiastic and dedicated volunteers. We are committed to providing compassionate service to those in need in our community. We stay in tune with the ever-changing environment and realign our services and resources to best respond to the current community needs. We recognize our success is not ours alone. One of our greatest assets is strong community relationships. We collaborate with local businesses, schools, service providers and charities to strengthen our status as a premier philanthropic resource for the St. Louis Community. Assistance League is proud to be included in the list of organizations participating in this great challenge!
"My best memory is receiving the keys to our new headquarters. After years of operating our programs in small rented quarters, we came together and raised the money needed to purchase a permanent home for this organization."
- Assistance League of St. Louis Volunteer