A Thank You Note From Sumner High School
Sumner High School is located in The Ville neighborhood of St. Louis City. It was the first high school west of the Mississippi built to educate African- Americans. Sumner is proud to be home to a long list of famous alumni including the late Arthur Ashe, the late Chuck Berry, and Tina Turner. Today, Sumner's student body is comprised of smart, resilient students from various parts of the city. Our student body is 100% African-American with the majority of students living below the poverty line. Approximately 15% of our students are living in transition – meaning they lack stable housing.
We are incredibly grateful for the generous donation given to Sumner High School by the Assistance League of St. Louis. As the school social worker, I have spent my first year at Sumner getting to know the students and community. I have come to see that our students have "big" needs and "little" needs – "big" needs include unresolved family conflict, healing from past trauma, or struggling with suicidal thoughts; "little" needs mean needing help with new uniform clothes or hygiene products.
With the donations from the Assistance League, I am creating a Resource Closet where I can easily access items to help students with those "little" needs. My hope is that as I work with students through the "big" needs, I can quickly take away anxiety or fear they may feel by not having the "little" needs met. A student who is in clean clothing and has their hygiene needs met is more capable to focus in school, have more confidence when interacting with their peers, and have the mental capacity to think through conflict situations.
On behalf of the students and staff of Sumner High School, I want to say "THANK YOU!" for partnering with our community. Your generosity and willingness to help has made a deep impact.
Trisha Krumsieg, MSW
Social Worker
St. Louis Public Schools District
Charles E. Sumner High School
A School Thank You Note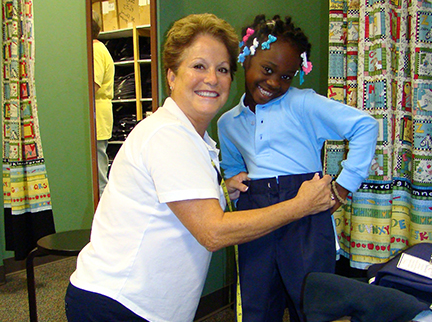 "On behalf of Lemasters Elementary I would like to thank Operation School Bell for the generous donations of school uniforms and
hygiene products. Due to your program's contributions we were able to ensure that 180 of our students had appropriate school clothing
for the 2014-2015 school year. All of our students who participated really enjoyed coming out to your facility and receiving their new
clothes. The new clothes that you all provide not only ensures that they have proper school uniforms to wear but it also helps their
self-esteem."
-Lemasters Elementary School Guidance Counselor, Riverview Gardens School District
My Own Fun Stuff Thank You Note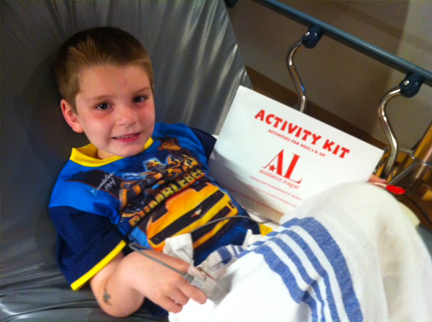 "Thank you to all involved in providing and distributing the Activity Packets from the Assistance League of St. Louis to St. Mary's Health Center ER.
Our patients and visitors love them. It is so great to be able to offer an age-appropriate distraction. The activity packets can provide calm and focus in an often
chaotic environment. I have been thanked countless times by parents trying to keep their children quiet and entertained. The best is when a child colors a picture,
signs his or her name, and brings it to one of the nurses or techs. If you visit our locker room and nurse's lounge, you will find them hanging on the lockers and
refrigerator."
-from the Director of Volun teer Services, SSM St. Mary's Health Center