Authors Brunch 2017 Sets Record Attendance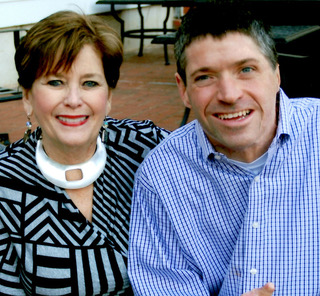 Assistance League of St. Louis®welcomed nationally recognized motivational speaker and author John O'Leary and his mother, author Susan O'Leary, to the stage at our 12th Annual Authors Brunch, April 22, at the Atrium at Edward Jones. It was the first time they have addressed a group together. A record 473 Guests enjoyed a sumptuous brunch, purchased chances on 20 beautiful opportunity baskets, and experienced the inspiration and humor of our wonderful authors.
St. Louis native John O'Leary conveyed a strong and heartfelt message of how optimism and a positive attitude helped him overcome the devastating injuries he sustained at 9 years of age in a fire he started in the garage. He recounted how Jack Buck visited him in the hospital, becoming an inspiration and a key element in his recovery. John interspersed this serious topic with humorous stories about his family and childhood. His book, On Fire: The 7 Choices to Ignite a Radically Inspired Life, recounts this harrowing ordeal and his incredible recovery.
John's mother, Susan O'Leary, communicated the emotions and challenges facing her family during this unspeakable tragedy. Her story of how the people in her community stepped up to help with meals, carpools, laundry and babysitting, to name just a few ways, is compelling. She and John's father, Denny, penned the book, Overwheming Odds, communicating their struggle through this traumatic ordeal.
Before and after brunch, guests enjoyed meeting the authors, who personally autographed their books.
A Special Thank You to Edward Jones and all our guests, sponsors, donors and patrons who made this event a success.
All donations from this event support our programs, which last year touched the lives of over 50,000 women and children in our community.
"My best memory is receiving the keys to our new headquarters.  After years of operating our programs in small rented quarters, we came together and raised the money needed to purchase a permanent home for this organization."
- Assistance League of St. Louis Volunteer