John O'Leary and Susan O'Leary Featured at 2017 Authors' Brunch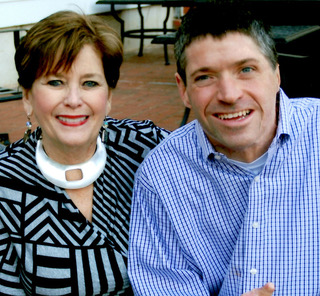 John O'Leary, in his book ON FIRE, relates the heart-wrenching story that began when, at age 9 in his family home in St. Louis, he accidentally set himself on fire! With severe burns on 98% of his body, John was given less than a 1% chance of survival. After spending five months in the hospital learning to walk again and figuring out how to use his hands again (his fingers had been amputated), John now had to deal with the reality of who he was. With his "unimaginable inner strength" and the help of the heroes who had stepped into his life—his family, the medical staff, and strangers—John not only survived but forged ahead to live life with zest and continues to help others do the same. Today, John O'Leary is married, has four children and is a writer and an international speaker.
Joe Buck of Fox Sports, and whose father, Jack, was instrumental in John's recovery, said this about the book: "ON FIRE is an amazing reminder that we might not be able to choose the path we walk in life, but we can always choose the manner in which we walk it. It is fast paced, emotional and surprisingly funny."
Susan and Denny O'Leary in their book, OVERWHELMING ODDS, recount the story of the mind-boggling challenges their family faced after the horrific accident of their son, John, in 1987. Accidentally "catching himself on fire" in their family home in a quiet St. Louis suburb, John suffered severe burns over most of his body and was given a 1% chance of survival.
Assistance League of St. Louis Achieves GuideStar Platinum Level

Assistance League of St. Louis has recently achieved GuideStar's highest level of recognition-the Platinum GuideStar Profile level. GuideStar is the world's largest source of information about nonprofit organizations and a leader in advancing transparency in the nonprofit sector. Less than 1% of all non-profit members of GuideStar reach the platinum level. Reaching this level demonstrates Assistance League's deep commitment to nonprofit transparency and accountability.
100% St. Louis Based

100% Volunteer Based

63,900 Volunteer Hours Given to the St. Louis Community Valued at $1,501,650.00.

50,017 Lives Touched During 2015-2016 Fiscal Year